Carolina Youth Dance Academy
​
​This dances have been suspended until further notice due to covid-19 concerns.
​
Hope to see you dancing with us soon. Thanks.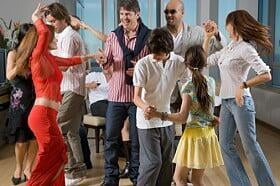 Come learn to dance.
Two Sunday afternoon's each month, we provide free dance classes for young people in Raleigh.
You don't need any prior dance experience. All welcome, parents included!
Contact Director Debbie Ramsey for more details and upcoming scheduling.
Office: 919-494-2300 Cell: 919-274-4400 Email


Partner dance teaches wonderful social interaction, grace and confidence, all things that will help our youth succeed in today's world.
We are here to provide top quality dance education, discipline, self-esteem, and teamwork. Our highly qualified staff is ready for you
to become a part of our dance community. CYDA uses the art of dance as a vehicle to increase self-esteem, focus,
teamwork, creativity, artistic expression, and music appreciation.
CYDA works to instill a professional work ethic necessary for dance and beyond. CYDA members program range from those interested
in pursuing a dance career after high school to those seeking a highly motivated and proactive extracurricular activity to complement their
academic work. CYDA rewards excellence, leadership, and talent with scholarships and professional performance opportunities to the
youth of the community.
CYDA strives to educate and revitalize a passion for dance through the finest instruction and performance. With professional and youth
dance companies, as well as a strong community outreach program, CYDA continues to be a leader in the vitality and diversity of Carolina's
dance community. CYDA promotes smart life choices and encourages students to become positive role models.
CYDA offers comprehensive dance training in multiple disciplines to students of all experience levels, ages 3 and up. CYDAs educational
community outreach program "Swing into Dance" explores the history of the art of dance through performance and narration, reaching thousands
of children each year via in- school performances, demonstrations and field trips. CYDA helps bring forward youth leaders and develop confidence
by embracing the Montessori type learning environment
The CYDA participates in many local festivals in The Triangle as well as National Dance Conventions across the country. CYDA also promotes
master classes offering higher level training in all forms of Dance.
Artistic Directors: Debbie Ramsey & Ryan Boz.


Carolina Youth Dance Academy is under the artistic direction of founders Debbie Ramsey and Ryan Boz. Debbie Ramsey after more than 40 years
of professional dance experience, wanted to share her education and love of dance with young students. Ryan Boz, by being young himself (19),
he offers a quick connection to the youth dancers, Ryan has already been traveling the world teaching, choreographing and performing for over 11 years.
In this new millennium, Carolina Youth Dance Academy is proud to blend the modern styles of today From Ryan with the timeless beauty of the classical
styles from Debbie. Debbie and Ryan celebrate together in the joy of educating the youth in the Art of Dance and especially, partner dances.
They enjoy working collaboratively and as such have created a well-rounded curriculum and dance program for CYDA members.


The positive environment and attention to the details of dance training by Debbie and Ryan, allow the dancers to flourish and this can be seen in
Carolina Youth Dance Academy productions. While fostering an appreciation for the performing arts, CYDA also encourages dancers to pursue their
interests as choreographers, administrators, and other dance-related occupations. The Carolina Youth Dance Academy is a 401c non profit organization.