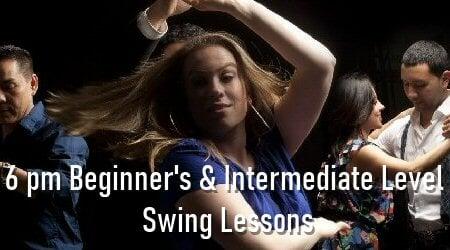 Fun, Friendly and Inclusive Swing Dancing.
That's what you will experience every Sunday Night with the Carolina Dance Club. We have a big, wood dance floor, cash bar, snacks and plenty of comfortable table seating for socializing when you need to take a breathier from dancing. Our Sunday dance is the biggest weekly swing dance party in the Triangle, and has been providing a place to meet, socialize and dance for 18 years.
We have two levels of swing lessons included with your admission price at 6 pm. Choose either the east coast swing beginner lesson or the intermediate lesson. Then get ready to dance from 7 till 10:30 pm with club djs Wesley Boz and Ryan Boz.
6 pm Beginner East Coast Swing Lesson
​&
6 pm ​Intermediate East Coast Swing Lesson
New to dancing? Get here early for the 60 minute beginner east coast swing lesson and meet some friendly people while you learn some cool swing moves.
Are you an experienced swing dancer? We now have an intermediate east coast swing lesson for you too at 6 pm. Both 6 pm Lessons are included in your admission price. No partner necessary. Very newcomer friendly. You choose the level to participate in.
7:00 pm Lindy, East Coast Swing, Balboa, Blues
Our first set is high energy Big Band, Jump Blues, Jazz Swing, 50's Rock N Roll.
8:30 pm till 10:30 pm West Coast Swing
Our second set is where we chill with R&B, Blues, Top 40, Pop, Hip Hop. Enjoy west coast swing, a little hustle and night club two step selections here.
One Admission Price: $15 Public, $ 10 Student (14 - 24 yrs), $ 12 CDC Members. Late Night Admission after 8:45 pm till closing $7.00 Raleigh Elks Lodge
Your Admission price not only includes the 6:00 pm beginner or intermediate swing lesson and evening swing dance till 10:30 pm, but it also includes the 3:00 pm 1st Sunday Afternoon Ballroom and 2nd Sunday afternoon Salsa dancing too. Wow, that's a bargain.


Free Lite Appetizers * Jackpot Drawing Each Week at 9:00 pm * Nightclub Style Table Seating * Large Wood Dance Floor * Cash Bar * Air Conditioned & Smoke-Free. LOCATION: Raleigh Elks Lodge – 5538 Leadmine Road. (Corner of Leadmine & Millbrook Rds, and 1 mile north of the Crab Tree Valley Mall).

Join the Carolina Dance Club as a member - Have fun and save money on your dance habit. Begin here..