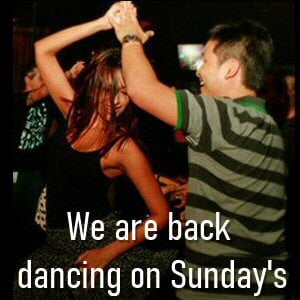 SUNDAY RALEIGH ELKS LODGE. Good news ladies and gentlemen! We are back dancing, every Sunday afternoon and evening at the Raleigh Elks Lodge.

ONE ADMISSION PRICE includes afternoon & evening: $15 General Public, $10 Students (16-24 yrs.),
$12.00 Carolina Dance Club Members. Not a Carolina Dance Club member? Go online and become one now.
PLEASE READ IMPORTANT DANCE POLICY: Due to the continuing safety concerns surrounding the covid19 pandemic, until further notice, the Carolina Dance Club we will be requiring all Sunday dance attendees to present a COVID-19 VACCINATION RECORD CARD issued by the Center for Disease Control showing that you are FULLY VACCINATED. Bring your vaccination card or a photo of the card on your cell photo to the dance. Our welcome staff will add you to our dancers vaccinated list for future reference. If you do not present a card, you will not be able to attend the Sunday dance. No exceptions will be made. Thank you for your patience and understanding, while we work to keep our dance family safe.
Additionally, the city of Raleigh has required face masks to be wore while indoors. Thanks for your understanding.
WHAT TO DO NEXT:
1) Go online and submit your information early. We thank you in advance! Online submission for self certification of vaccination click here..
2)Present your valid CDC Covid-19 Vaccination Record Card at the desk any Sunday night.
Upcoming Sunday Dance Happenings DECEMBER 5th, 2021
Keep our dance community safe and strong.​

We do require all of our dance attendees to be fully vaccinated. The city of Raleigh also requires us to wear face masks when inside dancing of Sunday's at the Raleigh Elks Lodge.
SUNDAY, DECEMBER 5th.
​AFTERNOON
BALLROOM DANCING.
No Beginner Dance Lesson. Social Ballroom dancing from 4 pm till 6 pm.
EVERY SUNDAY NIGHT.
​6 pm Beginner East Coast Swing lesson


​7-10:15 pm Swing Dancing.



​
(Lindy & West Coast Swing social dancing)
Group Classes, Private Coaching and more opportunities to have fun.
West Coast Swing, Lindy Hop,
Carolina Shag, Hustle Classes
Group classes coming February 2022.
Beginner Swing Lesson 6:30 pm
Two Step, Waltz, Swing Dancing
7:30 pm till 9:45 pm