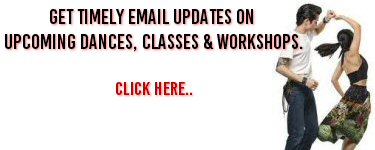 ​Upcoming Sunday Dance Events - Sunday, July 10th @ Raleigh Elks Lodge.
SUNDAY AFTERNOON SALSA, LATIN

Sunday. July 10th




​3 pm Beginner Salsa Lesson.




​4 pm - 6 pm Salsa, Latin, Hustle Dancing

​Salsa, Bachata, Cha Cha, Tango, Merengue)

​All welcome, no partner necessary.

​

​

​
3 & 4th SUNDAY BEGINNER BOOT CAMPS
​July 17th - Carolina Shag
​July 24th - Hustle
​Three Workshops 3, 4 & 5 pm.
​No partner necessary. All Welcome.
​More Information Here...
EVERY SUNDAY NIGHT.
​6 pm Beginner & Intermediate

​
East Coast Swing Lessons
​7-10:30 pm Swing Dancing.
​
(Lindy & West Coast Swing Social Dancing)
We Have Everything You Are Looking For To Become A Better Dancer.
West Coast Swing Classes

​New Beginner & Advanced Classes




​Starts Wednesday, August 17th.




​Instructor Ryan Boz


​

Triangle Dance Studio, Durham.




​Register early, classes sellout early.

​


COUNTRY & SWING NIGHT
​Saturday, September 24th, 2022
A special afternoon and evening of dancing at the Cedar Grove Acres Event Venue, Creedmoor, NC.
Beginner Waltz & Country Two Step Workshops and evening Country & Swing Dancing dancing.