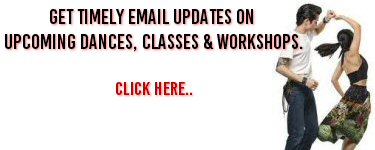 ​
Upcoming Sunday Dance Events - Saturday, September 24 & Sunday, September 25th @ Raleigh Elks Lodge.
"Dancing Under The Stars"

​

Swing, Shag, Country DanceSaturday. September 24th.


​

4:30 pm Beginner Shag Workshop

5:30 pm Beginner Country Two Step Workshop

​6:30 pm Beginner & Intermediate Swing Lesson

​7:30 pm - 9:45 Pm Social Dancing.




​

Food, drinks, lessons and fun for all. Inclusive, singles and family friendly event.

​

All welcome, no partner necessary.

​

​

Location: Cedar Grove Acres, Creedmoor.

​

​

​
3rd& 4th SUNDAY BEGINNER BOOT CAMPS
​
​
​Sept. 25 - West Coast Swing
​
​Three Workshops 3, 4 & 5 pm.
​No partner necessary. All Welcome.
​More Information Here...
SUNDAY NIGHT SWING DANCE
​

​6 pm Beginner & Intermediate
​
East Coast Swing Lessons
​7 pm - 10:30 pm Swing Dancing.
​
(Lindy & West Coast Swing Social Dancing)
Up Coming Group Classes
Ready to get back to dancing? Here is your opportunity to join us for new, evening group dance classes. They are a surefire way to improve your dance technique, get some exercise, and meet some new friends. No partner necessary to attend these evening group classes. We recommend that you register early.