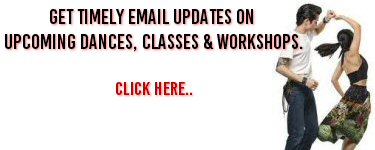 ​Upcoming Sunday Dance Events - Sunday, August 21th -28th @ Raleigh Elks Lodge.
NO SUNDAY SWING DANCE

Sunday. August 28th




We are on a brief holiday break.




​See you back on Labor Day Weekend. Sunday, September 4th

​

​

​
3rd SUNDAY BEGINNER BOOT CAMPS
​
​August 21st - Balboa Swing
​with Joel & Jackie Plys
​Three Workshops 3, 4 & 5 pm.
​No partner necessary. All Welcome.
​More Information Here...
SUNDAY NIGHT SWING DANCE
​August 21st

​6 pm Beginner & Intermediate
​
East Coast Swing Lessons
​7-10:30 pm Swing Dancing.
​
(Lindy & West Coast Swing Social Dancing)
Up Coming Group Classes
Ready to get back to dancing? Here is your opportunity to join us for new, evening group dance classes. They are a surefire way to improve your dance technique, get some exercise, and meet some new friends. No partner necessary to attend these evening group classes. We recommend that you register early.