5th Sunday, May 29th - Memorial Weekend Swing Dancing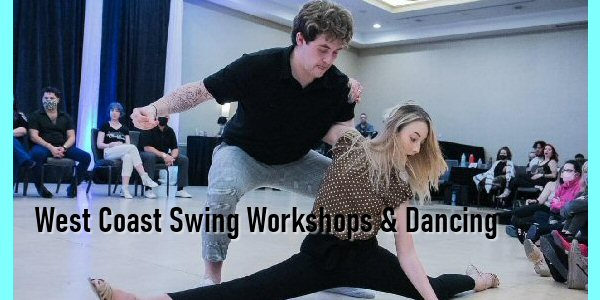 Afternoon West Coast Swing Workshops

5th SUNDAY, MAY 29th MEMORIAL WEEKEND@ Raleigh Elks Lodge.
Here's your opportunity to have fun, meet friendly people, and improve your West Coast Swing dancing with 3 time Jr. U.S. Open Swing Dance Champion Ryan Boz. He'll be teaching three
Afternoon Upper Level West Coast Swing Workshops.
No partner necessary to attend these workshops, but you will need to be an intermediate level WCS dancer to join us. This is not for beginners.
We have also dropped the vaccination requirements to join us now on Sundays for dancing.
AFTERNOON WORKSHOPS & 5 PM Social:
2 PM Workshop: "Go Beyond the 5 Basics"
Foundations are crucial to becoming a better dancer, and in this class we'll learn how to take our basics to the next level, and make our base even stronger.
3 PM Workshop: "Let it Flow"
Sometimes we can look "blocky" or "stiff" in our dancing. In this class, we'll learn how to move with intent to create new and diverse opportunities in our west coast swing dancing.
4 PM Workshop: "Dance like a Champ"
Using the knowledge you learned in the prior two classes, well take your dancing to the next level to make you look like a champion dancer!
5 - 6 PM Open West Coast Swing Social. Practice what you learned here. Included in the afternoon workshop price.
Afternoon Workshop Cost:
BOOT CAMP BANKROLL: Take all three workshops and get the 6 pm evening swing dance for just $5.00
Carolina Dance Club Members (CDC):
$11 One Workshop , $19 Two Workshops, $23 Three Workshops.
Non-CDC Members Public:
$15 One Workshop, $23 Two Workshops, $31 Three Workshops.
Students (14-24 yrs): $5.00 per workshop. No partner necessary.
EVENING SWING DANCE:

Follows the afternoon workshops.
Fun, friendly, inclusive swing dancing at the Raleigh Elks Lodge. "18 years of great swing dancing". As of May 1st, we no longer require vaccination to attend the Sunday dance, thanks.
EVENING SCHEDULE: DJ Wesley Boz & Ryan Boz.
6 pm Beginner & Intermediate Level East Coast Swing Lessons. Choose the right level for you.
7 - 8:30 pm Lindy Hop, East Coast, Balboa, Blues dancing. West Coast Swing dancing 8:30 pm till 10:15 pm.
EVENING DANCE ADMISSION: No online. Please pay at the door. Cash, Check, CC, Paypal, Venmo.
$15 Public I $12 Carolina Dance Club Members I $10 Students (16-24 yr). Late Night Admission: After 9 pm-till closing $7.00.
Office; 919-494-2300 EMail: wesleyboz@musicanddance.com