5th Sunday, January 29th, 2023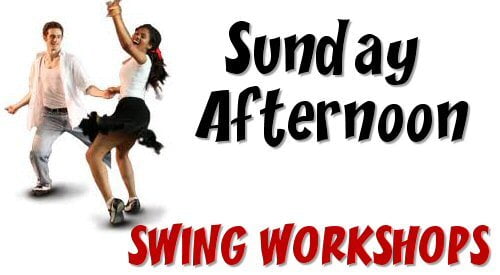 Afternoon Old School Swing Workshops

5th SUNDAY, January 29th @ Raleigh Elks Lodge.
Here's your opportunity to have fun, meet friendly people, and improve your Swing dancing with instructor Wesley Boz. He'll be teaching four old school swing workshops for your pleasure.
This Sunday afternoon, we pack a lot of classic swing styles into one afternoon. Take one, two, three or all four workshops. No partner necessary to attend these workshops. No online registrations. Please register at the door. Location: Raleigh Elks Lodge. Doors Open at 1:45 pm.
AFTERNOON WORKSHOPS 2 PM - 6 PM : DOORS OPEN FOR REGISTRATION at 1:45 PM.

2 PM Workshop: " Basics of Lindy Hop"
Foundations are crucial to becoming a better dancer, and in this class we'll learn the basics of Lindy Hop. 8 Count Basic, Lindy Circle, Swingout.
3 PM Workshop: "Balboa Basics"
Learn some simple moves in Balboa Swing that you can use in your Lindy Hop and East Coast Swing. Then we'll show you how to get into and out of your Balboa basics and back into your other swing styles.
4 PM Workshop: Basic Charleston Kicking Patterns: Fun easy kicking patterns you can use in your Lindy Hop and East Coast Swing dancing.

5 PM Charleston II - Tandem Kicking Patterns. This workshop will teach you how to dance into a tandem position for your Charleston kicking patterns. Both dancers are facing in the same direction.
Afternoon Workshop Cost:
BOOT CAMP BANKROLL: Take all four workshops, and get the 6 pm evening swing dance for just $5.00 extra. Wow!
Workshop Pricing:
Carolina Dance Club Members (CDC):
$11 One Workshop , $20 Two Workshops, $25 Three Workshops, $30 Four Workshops
Non-CDC Members Public:
$15 One Workshop, $25 Two Workshops, $35 Three Workshops, $45 Four Workshops
Students (14-24 yrs): $5.00 per workshop. No partner necessary.
NOT A CAROLINA DANCE CLUB MEMBER? Join now and save money on your dancing. Check here..
EVENING SWING DANCE:

Follows the afternoon workshops.
Fun, friendly, inclusive swing dancing at the Raleigh Elks Lodge. "18 years of great swing dancing".
EVENING SCHEDULE: DJ Wesley Boz & Ryan Boz.
6 pm Beginner & Intermediate Level East Coast Swing Lessons. Choose the right level for you.
7 - 8:30 pm Lindy Hop, East Coast, Balboa, Blues dancing. West Coast Swing dancing 8:30 pm till 10:30 pm.
EVENING DANCE ADMISSION: No online. Please pay at the door. Cash, Check, CC, Paypal, Venmo.
$15 Public I $12 Carolina Dance Club Members I $10 Students (16-24 yr). Late Night Admission: After 9 pm-till closing $7.00.
Office; 919-494-2300 EMail: wesleyboz@musicanddance.com